I'm a professional photographer with many years of experience in commercial and corporate photography, working for amazing clients like IKEA, Huawei, Ramada Hotels, Holiday Inn, National Geographic. I specialise in interior photography (includinv interior design photography, real estate and architecture photography) but also in industrial, aerial and commercial photography for companies, factories, hotels, restaurants and real estate clients. 
I am based in Bucharest, Romania and I am willing to accept commissions anywhere my services are needed, în Romania and worldwide.
Let me introduce myself. I'm Calin -
more like Colin, in English
- and I am a professional photographer from Eastern Europe. More exactly I live and work in Romania, and my studio is in Bucharest. Doing photography for local and international companies, my projects often get me to travel anywhere I am needed. And that means worldwide. I've got to shot from UK to Austria, Croatia, Spain and all the way to Japan. 
I am working for big and small companies alike, for international brands like IKEA, Huawei, Ramada, Holiday Inn and McDonald's, and established Romanian companies like Rompetrol, IRUM, IMSAT, SALROM and many others, which you can read about in my
Clients
page. I am working directly with companies and also through advertising agencies like Golin, KEEL London, Emperor and others. My stills and video footage appeared in television documentaries from CGTN London and in international magazines like National Geographic, GEO, Time, CNN Travel and many others. More about this in my Media page.
In 2010 I have started the Clubul Foto (
Photo Club
) Magazine here, in Romania and this gained me experience working with a wide variety of photography gear, cameras and lenses, from almost all photography brands out there. So, from this point of view, I have a photography experience which is quite hard to equal, at least trough local photographers. 
Also, I am directly involved in two specific photography companies:
TheDrone.ro
- aerial photo and filmmaking and
SEE360.ro
- 360 Virtual Tours.
I've made photography a way of life, and since the beginning of 2017 I'm also honoured to be a photographer for National Geographic and National Geographic Traveler Romania.
Along this time I've also had the honour to receive international and national awards for my photography, most of which you can
read about here
. 
I am also member of the Skypixel community, DJI Drones Expert, Recommended Photographer and Story author.
Together with my awesome team of photographers and assistants, no project is too big or too small, too simple or too complex. At any time my goal is to deliver high-quality, powerful images with a unique look and feel. You can rest assured that the image of your business is in good hands.
Drop me a line
and I will be happy to help. 
"We had a great pleasure working with Calin. He captured all of our ideas in amazingly professional photos, meeting our requests precisely. He is efficient, flexible and has a fair, clear and fast way of thinking, which is exactly our type of business" 
- Valentina, BlueSpace Technology
"Experienced and extremely flexible, I strongly recommend!" 
"I had a great pleasure working with Călin for his business photography services. He is professional, enthusiastic about his work, flexible and resonated with all our requests. The output consists of incredible company photos that we now use in all our marketing platforms. "
- Valentina, Smart Lighting
My works appeared in magazines, newspapers, books, online and offline, all around the world. 
I'm working with advertising agencies, travel & leisure companies, online and offline stores, hotels & restaurants and also real-estate, industrial companies and local representatives of international manufacturers.
Some of my clients who benefit of my photography are: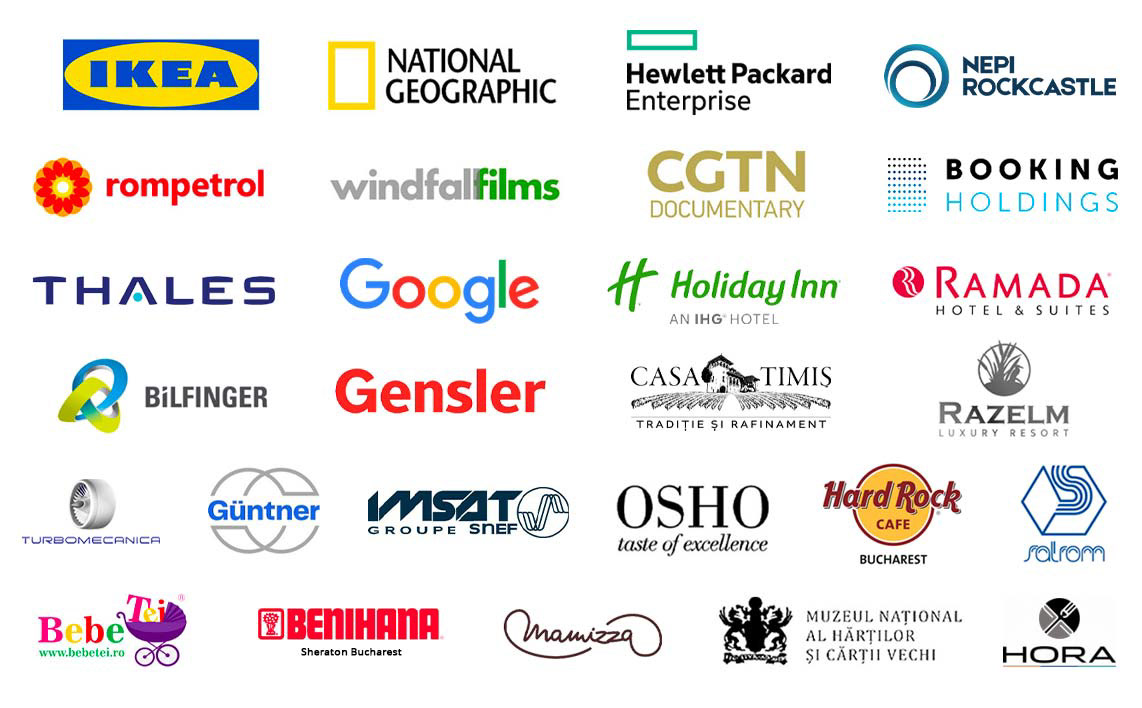 In the past few years, I've worked with National Geographic Romania, McDonalds Romania, IKEA, CGTN UK, Keel London, Huawei, Austrian Tourism Board, Sony, Panasonic, TP-Link, Kingston, Suzuki, GSE, NEPI Rockcastle, VIAROM, MAN, Federal-Mogul, Manfrotto and I've been an active part of the following projects: Greek Explorer, Romania Autentica, #MovedToGreece & Discover Moldova / Wine Route.